How machine gunner "Grek" got his right arm back: the story of the Techiia Foundation's beneficiary
Viktor Kutuzakyi, one of the heroes of the "Nestrymni" project by the Techiia Foundation, shared his story with LIGA.net. This article is about conscience and dignity, physical and psychological trauma, and how businesses can help the wounded return to service and a full life.
Nobody knows how many Ukrainians lost an arm or a leg during the war. According to very modest estimates, over 10,000 citizens have lost limbs due to the full-scale russian aggression. In August 2023, the Wall Street Journal, relying on data from prosthetic companies, doctors, and charitable organizations, provided a more realistic range – 20,000 to 50,000 Ukrainians. And this number could be even higher since the registration of such injuries does not happen instantly.
This article is about conscience and dignity, physical and psychological trauma, and how businesses can help the wounded return to service and a full life. Machine gunner Viktor Kutuzakyi shared his story with LIGA.net.
Who he is
Setting – city of Brody, Lviv region. Time of action – wartime. Protagonists – local military recruitment office employees and a random man of the draft age.
— I wish you health.
— Good day.
— First Department of the Zolochiv Territorial Centre for Recruitment and Social Support. May I see your documents?
The young man subtly winces. There we go. He had been waiting for a meeting with a friend just a minute ago, but now he got himself into a very different encounter. His instincts told him not to linger here in broad daylight. But he didn't listen. And now – "a warm welcome" from the trio in pixels.
An unpleasant feeling churns in his stomach. Nevertheless, he steels himself, rises to his feet, calmly retrieves his passport, and presents it to the staff at the Center.
A brief exchange follows. One of the officers retrieves a summons form from a folder. The man watches intently. His facial expressions reveal the questions "What right do you have?" and "Why the hell did I take this route?"
Anger begins to overpower fear, and he opens his mouth:
- Great! So you're here, in the deep rear, handing out summonses instead of being at the front yourself...
The man abruptly stops as he hears a strange sound – a quiet mechanical buzzing.
The right arm of one of the soldiers is entirely black, as if it is wrapped in a glove that looks so out of place for a sweltering July day. The soldier raises his forearm, puts the folder between his fingers, and they squeeze it – unnaturally evenly and with the sound of a small electric drive, like in a Terminator movie.
— So, what were you saying about the frontlines? — the Center representative with the mechanical arm asks amiably. He is slender and of medium height, looking slightly upwards. He has short hair and a neat "Spanish" beard, and his eyes smile — genuinely, without provocation, without anger. A name tag on his chest reads "Kutuzakyi."
— Never mind, — the man says gloomily. He turns away, gazing toward the street, his thoughts focused on his future, which has suddenly become very uncertain. — Just write it up.
… This fictional scene with several characters is born in the imagination as we talk to Viktor on a playground in the courtyard of a nine-story panel building in Kurenivka.
— I'm a "special guy" with a missing hand and leg, — the soldier says ironically, — So, they usually put me in a group with a car. We come to where people hang out, have some coffee, and observe the men. When we see men who are not too young, but not too old, and decide it is the right thing to hand them the summons.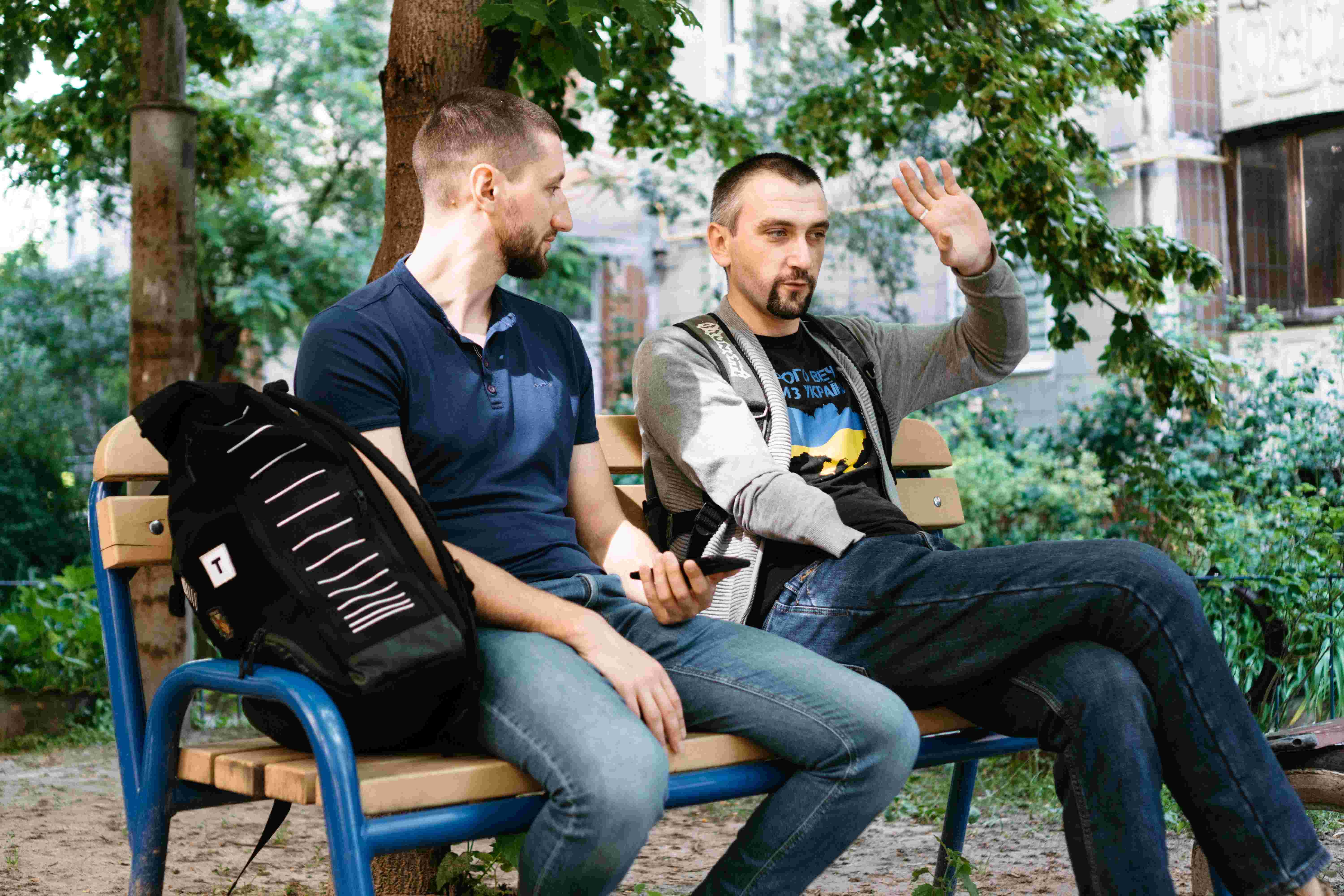 A few months before, President Zelenskyy gave a "serious recommendation" to Chief Commander Valeriy Zaluzhnyi. The recommendation was to send most of the service members who had long been sitting in the recruitment centers to the front as fighters and replace them with soldiers who had been wounded.
Whether it was due to this statement or not, in the summer of 2023, Viktor, known as the "eternal 300th" (note: 300th - wounded), was transferred to service at one of the recruitment centers in western Ukraine. It followed voluntary mobilization, rapid combat service, severe injuries in the Luhansk region, months of treatment, rehabilitation, and prosthetic fitting.
We met Viktor on the day he spent his first few weeks with a test bionic arm and handed it over for "fine-tuning" and final adjustments.
ATO soldier
Viktor Kutuzakii refers to himself as a former Odesite. In 2006, he came to Lviv to study, where he gained his first work experience. In 2016, he relocated permanently. Only his last name, occasional russian phrases in conversation, and the callsign "Grek" hint at his Odesa roots.
"In 2014, I was one of those who 'didn't care about politics.' There was some revolution in Kyiv, some war – big deal. I had my own problems," he recalls, gazing at the sandbox in the children's playground.
At the time, Viktor completed his training as a shoemaker and worked as a fourth-grade shoe repair master. Occasionally, he found odd jobs in construction. After moving to Lviv, he rented accommodation with a female friend to share the rent cost. "Well, we shared it so well that we now have two children and a happy marriage," Viktor smiles.
After getting married, the couple moved to his wife's father's place in Brody. Their expenses decreased, but so did their opportunities for earning a living. For a while, Viktor commuted to Lviv for part-time jobs. Later, he began seeing advertisements for the Armed Forces here and there.
Being an orphan, the man had not served before and was invisible to the military recruitment office. He admits that his motivation to join the army was mainly financial, as at the time, a stable 7000 UAH salary and a social package were significant living in Brody. In January 2017, 27-year-old Viktor signed a contract and went to the training center.
"I thought I would be assigned to the special forces, sent to tough training, where I would be made into a 'manly man.' But at the training center, they looked at me, assessed my height, and said – 'machine gunner.' Good news! I was assigned to one of the artillery brigades in a guard battalion," Viktor recalls.
As part of the brigade, the newly enlisted soldier went to the ATO zone for the first time, to the front line near the village of Novozvanivka in the Luhansk region. In 2017, it was quiet there, with full-height trenches. His only job was to observe and mark any movement. However, there were occasional shelling incidents.
"I perfectly understand the people who fought in 2014-2015. They went through hell – and then the 'labor migrants' came. That's what they called us."
"You could beat your chest with your fist, call yourself a patriot, but the question 'where were you in 2014-2015' would override everything," the soldier explains
His contract coincided with when ATO was renamed JFO (Joint Forces Operation). In 2018, the brigade was withdrawn for training and replenishment. When it returned, it was no longer on the front line – only the second line and guarding the brigade's command post. He says many were unhappy with this arrangement.
"Only those who could find a way went to the front line as a way to earn extra money. Most knew they were going to a peaceful area because nothing was happening on the second line. Nowadays, it's the second line that's getting hit and quite a lot. Back then... It was a cushy job," the man recalls.
First battles
Viktor was discharged in 2019. Thanks to his deployments to the front, he received a combatant's certificate, although he felt embarrassed about it. After completing his contract, he returned to his previous occupations: making shoes and doing construction odd jobs. For a brief period, he worked at a local furniture factory, but during the pandemic, he faced layoffs and ended up on the unemployment exchange. This is how he got to 2022, searching for a stable job again.
Did the former serviceman feel that there would be war? Viktor blows smoke into the Kyiv air and smiles. He says he watched TV and was convinced that the hybrid war would last a very long time. He was sure that the russians would be stopped after the first missile and that it would be unprofitable for them to invade Ukraine.
"But no! My wife woke me up at 5 in the morning on February 24th and said, 'It's landed at our airfield.' While she was saying that, it landed two more times," Viktor recalls.
He went to the military recruitment center (MRC) on the first day. Instead of the usual boredom, he found running and chaos. They recorded his details and said they would call him back. Viktor was sure they would take him at once because he was a volunteer, qualified for the job, and had experience from the ATO.
However, no one called him back in two weeks or after two more MRC visits. He went to Lviv, but the long lines there suggested he had a better chance of getting called up at home.
What pushed him to go? "Probably my conscience. Something inside was screaming: 'I have to be there.' I also wanted to know that I deserved my combatant's certificate when showing it on the city bus," he explains.
Shortly before Easter, he revisited the MRC, and this time, he finally received the order to arrive with his belongings after the holiday.
"I came home happy. My wife, of course, wasn't thrilled. I remember saying to her, 'Understand one thing – if I don't go to war now, I'll be nagging you about it every day for the rest of your life for any reason'," Viktor says.
Soon, the man took up his usual position as a machine gunner. After brief training, his unit was deployed to the outskirts of Bakhmut, an important stronghold on the eastern front at that time.
"I remember passing through Bakhmut. It was a normal, nice town. The only thing was the scotch tape on the windows everywhere. We were on a bus, and a woman was riding a bicycle next to us, crossing us," Viktor says with a smile, but his eyes fill with tears. He falls silent for a few seconds.
In mid-May, the first group was sent on a mission to Komyshuvakha in the Luhansk region.
Recalling the beginning of the battles, "Grek" expresses his outrage. Instead of the promised prepared trenches, the group encountered unfortified positions. They arrived for rotation rather than reinforcement. The unit's composition also surprised him: "The company had 15 'ATO veterans,' and I didn't even count myself; I just knew I wouldn't panic during shelling. Among the others – some suffered from high blood pressure, and others had poor eyesight and various health issues. I can't imagine how the military officials conducted the selection process then. And this was back when they didn't call me, a healthy volunteer, for two months."
In May 2022, Komyshuvakha was a point located in between intense battles in Severodonetsk to the north and Popasna to the south
The village was still peaceful, and Viktor's group took defensive positions to prevent the russians from infiltrating their rear lines through them, where other units held the towns.
"On the first day, we managed to dig in quite well in our positions, up to our waist. But on the second day, a drone spotted us, and then it began to rain down on us: precision strikes, intense, as expected," the soldier recalls.
Three people, including their commander, were wounded, and their only radio for communication was destroyed. They had to withdraw, taking their weapons and ammunition with them.
"On the neighboring position, things were worse – they had a casualty. On the night from the second to the third day, 30 people from the control observation post (COP) simply ran away. They just walked on foot along the road from where they were brought. I don't know how they made it and passed through the checkpoints. The guys said that they were later tried. I think it's the right thing to do. Because those of us who stayed and continued to carry out our tasks simply lacked manpower," Viktor explains.
Later, the 2nd company of the 46th Rifle Battalion, where Viktor served, gained attention with a video appeal to the president, complaining about the lack of weapons and equipment. "Of course, there are none, we are a rifle battalion, purely for support! These 'appealers' then ran away, and we held the ground on our own as much as we could," "Grek" angrily added.
The position was eventually moved a bit further away because the previous one was destroyed by the russians, although they did not occupy it. It was pointless to stay there without support from the flanks. The group defended and held back the enemy in the new location, slowly retreating until May 29th. That day was Viktor Kutuzakyi's second birthday.
"Damn, I lost my wedding ring!"
"I think it was an 82-millimeter mine," says my companion, scratching his right arm where there is no hand.
By the end of May 2022, the russians had taken over almost all of Komyshuvakha. Only a tiny piece at the entrance remained in the hands of Ukrainian forces. Their task was to hold COP. One day, tanks advanced toward the group's position where Viktor was stationed. The unit decided to confront them from the other side but found itself under pressure and engaged in combat.
"...And when a battle is raging, you don't pay much attention to the sounds or whistles anymore. There's no time for that. You gradually start hearing the russian voices, waiting and firing back," the soldier explains.
Defenders were shooting, throwing grenades, and attempting to repel the attack. Viktor had just finished the machine gun magazine, dropped it, crouched down, and reloaded. He leaned slightly to look around to see if the russians were approaching when something hit from behind his right shoulder.
"A bit of dark humor, sorry. I fell to the ground, raised my hand – damn, I lost my wedding ring! My wife will kill me!" the man laughs, and his laughter turns into a somewhat awkward smile.
But the sight was quite unpleasant: instead of a palm, two bones were sticking out. I look at my right leg - something is hanging from the middle of the shin, and the leg is gone. I look at the left – the boot is still there! Well, that's a relief!"
A fellow soldier saved him. He crawled over, applied, and tightened three tourniquets exactly "by the book." "Grek" was pulled to safety on a stretcher and placed in an evacuation vehicle. He recalls that he didn't initially feel pain due to the adrenaline. He was cheerful, frantically pouring water from a bottle into himself with his healthy hand, and even did not let them take off his vest. Then it "started to burn".
They stabilized him in Bakhmut, administered blood transfusions, and then sent him to Dnipro for further treatment, including cleaning and stitching the wounds. As he regained consciousness, Viktor saw that his left leg was also heavily bandaged. It turned out that a fragment had severed three of his toes.
Luckily, he managed to keep his phone with him. He called his wife. Chuckling, he remembers hearing everything his wife thought of him because he didn't warn her that he would be on the front lines and disappear for a month.
Viktor did not tell his family about his lost limbs right away. After gathering some courage, he asked a nurse to photograph him to show the consequences. He warned his wife that he would send the pictures and asked her not to be too shocked.
"Everything was wrapped up, and they poured betadine into the wounds "in jars." My wife received the photos and called me. She said: "Well, are you happy you went?" I answered: "Listen, someone has to do this job, right? Everyone could have put their hands up on the 24th, and that would have been it." And from that moment on, she stopped bugging me," Viktor says.
In a few weeks, he was transferred to Lviv and then to a sanatorium in Truskavets, from where he was finally taken to a hospital for prosthetic treatment.
Bureaucracy and charity
It was only in Truskavets that Viktor could get out of bed for an hour a day for the first time in several months – doctors forbade him to put any weight on his stump.
A quality lower limb prosthesis was installed relatively quickly, although he had to go through the military bureaucracy for it. "Being a participant in the ATO helped. If I had known back then, when I was hesitant to get the certificate, that it would be this useful," Viktor shakes his head. He received all the necessary documents, including a medical certificate explaining the circumstances of the injury, after the prosthetic was installed.
However, acquiring an upper limb prosthesis proved to be more challenging. Typically, soldiers are provided with a cosmetic, mechanical prosthesis or a simple metal hook. Bionic prosthetics are still an innovation, but private and charitable initiatives are changing the situation.
"As I was told at the prosthetic clinic, the amount of money allocated by the state for bionics is not enough. A special committee is required to approve more funding," says "Grek."
Due to the ongoing war, tens of thousands of Ukrainians need prosthetics, with some requiring multiple prostheses, like Viktor Kutuzakyi. However, most need help to afford them. The cost of a lower limb prosthesis, depending on the level of amputation and the quality, ranges from several hundred thousand to several million hryvnias.
Bionic arms are not inferior in price – from one million hryvnias
Here, on the one hand, the state comes into play, compensating the victims for the cost of prosthetics. The amount of compensation for the military is three times higher than for civilians, and the maximum is two million hryvnias. On the other hand, bureaucratic procedures could be better; sometimes, months pass before compensation for functional artificial limbs is received. The complexity of amputations also varies; even the increased amounts for military personnel do not always cover the necessary prosthesis.
Sometimes, patients have to pay or pay extra for a quality product themselves or with the help of charitable organizations.
At first, Kutuzakyi tried to get a prosthesis in Lviv at the "Nestrymni" center, but the queue was long. Then Viktor's company lieutenant directed the soldier to the Ukrainian-American company Esper Bionics. During the war, the company launched the Esper for Ukraine initiative, which provides Ukrainians with bionic prostheses of its own production at a special reduced price.
Usually, the costs of prosthetics are covered by donor companies, but individuals can also cover the cost themselves.
"Sponsoring companies have already funded 29 prosthetic installations, with nine for the military and three for civilians who have already received prostheses and are actively using them. Funding for prosthetics was provided by SKLR.tech, GigaCloud, BetterMe, Symphony Solutions, and several other undisclosed donors," says Bohdan Diorditsa, project manager at Esper Bionics.
The case and story of "Grek" reached yet another charitable partner, the NGO "Techiia Foundation," which is part of the TECHIIA international holding ecosystem. Since 2023, the organization has introduced a funding program for prosthetics for both military personnel and civilians.
"We invite businesses to join similar programs. This is both a contribution to the country's recovery and an opportunity to see tangible results from your social investments," says Yuna Cheis, chair of the Techiia Foundation's board. Viktor's case was the third for the NGO. The first beneficiary was an officer from Lviv who lost a leg but couldn't receive proper compensation from the state due to the circumstances of the injury and bureaucracy. The second was a paratrooper from Kyiv, who received a bionic arm to replace the one lost in Donetsk due to russian cluster munitions.
Esper Bionics advised Viktor to wear a cosmetic prosthesis to shape his stump. He traveled to Kyiv for the prosthetic procedures, which were planned for four visits: casting, test hand, adjustments, and the final prosthesis.
The bionic prosthesis of Viktor's right arm, including the discount, cost UAH 480,000.
Adaptation
Viktor used the test prosthesis for three weeks, training and getting accustomed to its features. He adjusted his grip and grip strength using a mobile app. The principle of bionics involves reacting to the contraction of the remaining muscles in the residual limb. Sensors in the prosthesis read these signals, and the device opens and closes the mechanical fingers and switches grips accordingly.
"There is a very simple application where you can track and adjust the sensitivity of the sensors during muscle contraction. That's how I realized the sensor was coming off in one place. This will be corrected before the final installation," explains the soldier. "Also, for example, when I pick up a cup, the prosthesis should be locked so that the grip does not accidentally switch and I do not drop it. In general, it is a very convenient thing."
Viktor says he didn't waste any time. Even last summer, while in the hospital without his leg, he asked his wife to buy him a notebook and a pen. He trained his left hand and relearned how to write, though slower and not as neatly as before. Now, he can do some household chores. "But I have a joke now. My wife tells me to do the dishes. And I tell her, 'I can't. I have only one hand!'" he says, laughing and spreading his humor unintentionally.
With children, the story is a bit different. The smile disappears from Viktor's face for a minute. He says that when the whole family first visited him in the hospital, the children did not even want to sit beside him. Not only did he have no limbs, but he had also grown a beard over a month and did not look like himself.
Later, the man got used to shaving with his left hand. Finally, he started standing up.
"Now the kids are used to it, even though I assemble myself like a constructor in the morning. When Dad returned with the 'cool arm,' they were like, 'Oh, Dad has two arms now!' Soon, they will make a nice casing for the prosthesis, and it will be even better," Viktor says with a smile.
Subscribe to LIGA.net newsletters – only the most important in your mail
A new service
His comrades kept in touch with Viktor. He sent them before-and-after photos and videos of himself getting back on his feet and learning to walk and hold objects again.
"While I was undergoing treatment and rehabilitation, my guys managed to fight in Kherson, Zaporizhzhia, and then returned to where we started – to Bakhmut. And in every communication, this one is '200', that one is '200' (note: 200 - deceased)..." the soldier says.
Before the New Year, "Grek" found out that "Scarabey", the same comrade who saved his life in Komyshuvakha, had died. Of those who defended the village with him last spring, only seven are still alive. His face hardens as he recalls these memories. Kutuzakyi pulls out another cigarette, the seventh during our short conversation.
After recovering, Viktor underwent a Medical and Social Expert Commission (MSEC) and requested not to be given any special treatment. He received the stamp "partially fit." "I can do paperwork. I can serve on the second frontline: I know how great it feels like to return to base, where you have the coffee ready, your bag with ammo and supplies is packed, and radios are charged. The only thing I wouldn't be able to do there is chop firewood," the soldier says.
At that time, an order came from the Western Operational Command to send wounded soldiers who could not return to the military recruitment centers. This is how Viktor ended up in Brody, in the first division of the Zolochiv Territorial Center for Social and Psychological Support.
Kutuzakyi believes that the chaos of the first months of the invasion and the state's information agenda did a disservice to mobilization
"At the beginning, many military recruiting officers were enlisting everyone, whether they were needed or not — my company was an example.. It's not surprising that people are afraid. Does the 'Unified Marathon' tell you anything about service or proper registration? No, because why would they need that information, right?" says Viktor ironically.
Because of this, he says, he has to explain a lot. Although in a small town, the delivery of summons usually happens calmly, without disrespect or arrogance: "People are more concerned that receiving a summon notice means 'that's it, you're done.' They ask whether to pack their things and how much time they have. They may say they can't go because they have mothers, children, brothers, grandmothers, and everyone is sick. But no one starts a quarrel, except for some drunk who might try to cause a scene."
At the same time, Viktor adds that even in the rear, there is no unnecessary showy drill anymore
He recalls that in 2017-2018, when a soldier was sent to defend a command post, officers used to be particular about his posture, uniform, and the fit of his body armor. Now, that's not the case. When asked why, "Grek" replies with a sad smile, "Everyone is at war. Everyone understands everything."
P.S. Viktor received his final bionic arm prosthesis in August. He gradually uses it more often and can even write slowly and unevenly with his right hand. At his request, the casing was made in a unique red color and adorned with the coat of arms of Ukraine.
It's worth noting that as part of the "Nestrymni" project, the Techiia Foundation, together with manufacturers of modern mechanical and bionic prostheses, prosthetics and rehabilitation centers, helps veterans with amputations take their first step and embrace their loved ones with both arms. As of September 2023, we have successfully fitted three prostheses – a mechanical leg prosthesis for a soldier of a separate tank company from Lviv region and two bionic prostheses from Esper Bionics for defenders from Brody and Kyiv region. So far, we have spent about UAH 1.4 million on this initiative.
Source: Liga.net